Evangelion Activity Begins In MapleStory
Mesos4u
Date: Feb/23/18 11:44:36
Views: 1587
Distributor firm Nexon announced that popular MMORPG games at MapleStory will soon be launching popular theme series Evangelion-based events. In-game Evangelion events will begin on February 28, 2018 and will continue for a month, ending March 28, 2018. At this time, players will be able to interact with characters, travel across dimensions, and complete special missions and special events from Evangelion movies.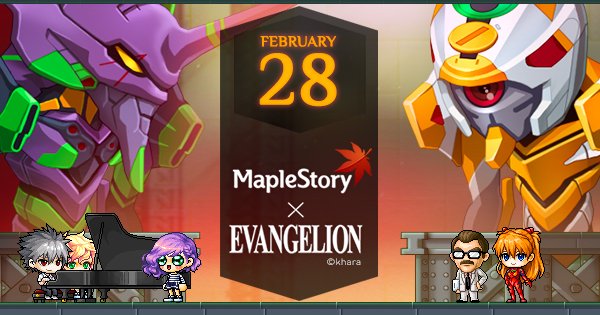 The key features of MapleStory X Evangelion activity are:
- Evangelion Coin Shop - After completing Evangelion themed events and tasks, players will be able to earn the currency called EVA Coins and exchange them for special items that will be offered for a limited time. Among these items are chairs, medals and even permanent equips.
- Evangelion Style Boxes - Players with special surprise box for a short time, be able to purchase accessories and outfits, will be able to dress up like the characters they created in MapleStory in Evangelion.
- Exclusive Items - Players will also receive special random boxes, and when they open them, Evangelion-based items will emerge. With hair coupons you can arrange your character like Evangelion.
MapleStory has already signed similar events and the game features characters from various anime series like Sword Art Online, Re: Zero, Attack on Titan and Hatsune Miku.